Bikepacking is a great way to explore an area. You can cover much more ground than backpacking so you get to see and experience more of the outdoors with your precious free time. This is why Bikepacking is growing in popularity and is one of our favourite ways to explore our National Parks in the UK.
Setting yourself and your bike up with the right gear will make your exploring more enjoyable.
What sort of bike do you need for Bikepacking?
They used to say the best Bikepacking bike is the bike you own but that isn't quite true these days as we ride so many different variations of bikes that not all bikes are suitable.

Hardtail Mountain Bike
Generally speaking a hardtail mountain bike is the most suitable bike for Bikepacking on all terrains. Make sure the frame has pannier mounts so that you can bolt on a pannier rack as this will enable to carry much more gear than with a rucksack or frame bags. Some carbon fibre frames do not have pannier mounts which is not ideal although there are solutions for this which we will come to later.
Find Mountain Bike Deals >>>

Gravel Bike
A gravel bike is also a great option for Bikepacking. With a gravel bike you sacrifice comfort (as gravel bikes do not have suspension) for efficiency. The lighter weight frame and smaller tyres mean you will be able to cover much more distance than on a mountain bike. If you are going to be doing a fair bit of road riding on your expeditions then a gravel bike is well worth considering.
Find Gravel Bike Deals >>>


Touring Bike
A touring bike is built specifically for long adventures with a solid frame and tyres which will reliably cover mile after mile. Some touring bikes come with pannier racks already fitted to the the bike, sometimes front and rear. A tourer is best suited to long road expeditions. The solid tyres can cope with gravel track but they are not the most comfortable in an off road situation.
Find Touring Bike Deals >>>
How to carry your camping gear on your bike?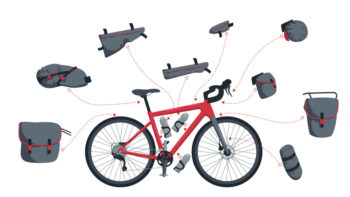 Pannier Rack & Panniers
The most popular way to carry your camping gear and provisions is by using a pannier rack and panniers. This will give you around 40 liters of storage space in your panniers (which can be water proof) and more storage space on top of your pannier rack which can be used for tents, sleeping bags or sleeping mats. Good quality panniers lock on the the pannier rack which is ideal if you plan to ride off-road. This is the preferred option for those epic expeditions where you need a lot of gear and the security of having a set up that will survive mile after mile.
Find Pannier Deals >>>

Saddle Bag, Frame Bag & Handlebar Bag
It is becoming increasingly popular to use a combination of numerous Bikepacking specific bags at different points of the bike frame.

Handlebar bag – A roll bag that hangs over the handlebars and can take around 10 litres


Seat Bag – An extended seat bag which can take around 10 litres


Frame Bag – A frame bag can be fitted either under the top tube or on top of the top tube and can vary between 1 & 4 litres
It's difficult to carry quite as much gear as it is with a pannier rack so this option works better in summer, but lets face it, that is when we do mot of our adventuring in the UK. It also works well for racing in summer Bikepacking events such as the
GB Duro
.
The benefits of riding with this multi bag set up are as follows –
Weight saving – Without the need for a metal pannier rack you can save a decent amount of weight by choosing this set up


Weight distribution – With weight on the front and rear of the bike the weight is distributed more evenly. Having all the weight on the rear of a bike can make it want to wheelie somewhat!


Works on all bikes – You can't use a pannier rack on a full suspension bike, where as this set up will work. This is also a good option if you have a hardtail bike without pannier mounts.


Versatility – If you don't need a handle bar bag then you can remove it and just use your saddle bag.
What camping gear should you take Bikepacking?
Lightweight camping gear is a must. You will not be able to take your family camping tent. Either a very good quality lightweight backpacking tent or a bivy bag and tarp combination work well.

What about food and cooking gear?
This is down to personal preference. You can save a lot of weight by just taking ready cooked meals but personally, we think you can't beat a cooked meal at the end of the day. A lightweight camping stove is a good idea as it can mean a warm meal at night and cup of coffee in the morning. Here are some great options –

Now you should be ready to go exploring. It's good to remember is that it's not about the gear, it's about getting out and exploring and seeing new areas with friends. Some good quality kit can help increase your enjoyment but it's not essential. Go and explore!